Building Stronger Communities: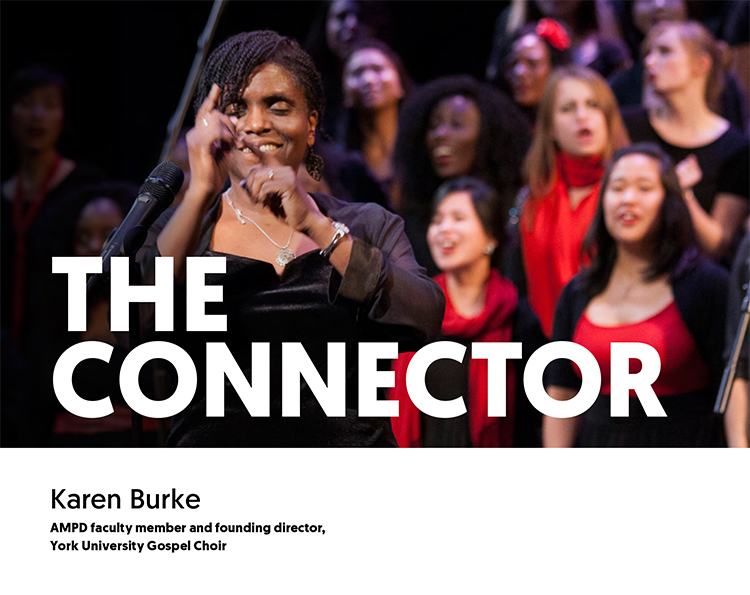 "When people hear I'm from York, the doors in the community open a little wider."
In the 1990s, singer, music director, choral conductor and composer Karen Burke was teaching music to high school students and directing the Juno Award-winning Toronto Mass Choir, which she founded. She kept the two worlds quite separate, not realizing one could benefit from the other. "I saw the ground floor only and I had no idea how far up it could go," she says. All that changed when she introduced gospel music into the classroom. "Students became more engaged, their performances more electrifying, the crowds at our concerts bigger."
In 2005, Karen brought those experiences to AMPD, where she founded the York University Gospel Choir and introduced the country's first university courses in gospel music. She started the City Youth Gospel Project to take York's gospel music strengths into the community and to young people who might otherwise never have the experience. More than 300 middle and high school students from four local schools visit AMPD each year for a day of gospel music learning.
"This is what happens when you put people together and create community," she says. "They find here a place they can dive into when the rest of the world isn't accessible. For me, music is all about relationships."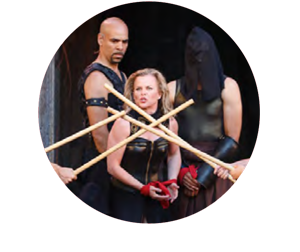 A CANADIAN FIRST WITH CANADIAN STAGE
In 2011, AMPD launched the groundbreaking MFA in Theatre - Stage Direction in Collaboration with Canadian Stage. The program includes intensive mentoring, the opportunity to direct a Canadian Stage production and a practicum placement with a renowned director at a major international theatre. In addition, selected undergraduate students are offered internships as members of the cast and creative team for Canadian Stage's summer shows.
"This joint initiative is a unique and exciting extension of our ongoing commitment to nurture strong, individual voices in the next generation of theatre artists," said Matthew Jocelyn, artistic & general director of Canadian Stage. "It's an immense pleasure to combine forces with York on this landmark educational program."
The collaborative MFA program in stage directing is now the model for future AMPD partnerships to be developed through IMPACT: The Campaign for York University.
A partnership
made in the
studio
The AMPD Motion Media Studio 
@ Cinespace Film Studios
Jim Mirkopoulos calls his company's more than decade-long relationship with York AMPD a "forward-thinking labour of love".
"Content creation is the new manufacturing in our economy. We should be supporting it, and especially at York where we've had such a long and successful collaboration," says the vice-president of Cinespace, Canada's first large-scale movie production facility founded nearly 30 years ago by his late uncle Nick, his father Larry and his uncle and current Cinespace president Steve Mirkopoulos.
Cinespace and the Mirkopoulos family are now focused on the continuity of that support as one of AMPD's leading IMPACT donors. Along with newer family partners Michael and Chrisoula Mirkopoulos, they have committed $2.5 million to create the AMPD Motion Media Studio @ Cinespace.
Located at Cinespace's Kipling Avenue location, the worldclass studio will support the invention, convergence and application of next-generation entertainment media technologies, with a special focus on film production and mixed reality. It will be the site of experiential learning and research involving industry professionals, faculty and students from across York in fields including cinematography, 3D cinema, gaming, virtual reality and motion-performance capture, along with high-performance computing and digital post-production.
"This gift came out of our desire to create a value-added experience for students," says Jim. But he admits that's not the only impact: "Partnering with York will ensure our ability to remain at the forefront of future cinema and new digital entertainment media."